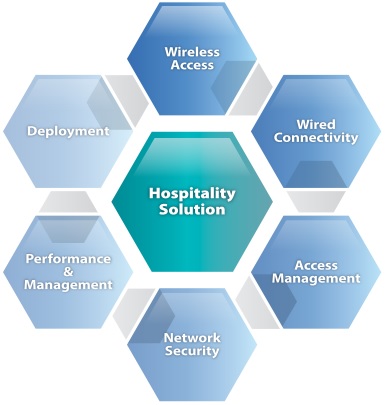 iONLINE is the valued Solution Partner of Hoist Group which is the market leader in innovative High Speed Internet Access, Conference services, TV & Content solutions, PMS and back-office software as well as other guest-facing amenities.
Many hotel chains, flagship independent hotels and public hospitals have entrusted their IT to Hoist Group. HQ is in Sweden and the company has offices in a total of 17 countries in the EMEA region.
iONLINE offer turnkey solutions for hotels and have extensive experience as a hospitality solution provider.
Fusion Platform 
A single platform for multiple hotel and guest technologies. High-speed Internet, interactive TV and enhanced personalisation delivered in one place.
Fusion Platform is a highly integrated service platform that has been specifically designed for hotels. It incorporates the most important guest-facing applications such as High-Speed Internet Access (HSIA), combining connectivity and interactive TV. It enables all relevant interfaces with the hotel's management systems; and it offers a set of powerful control functions for hoteliers to stay on top of their digital guest and hotel services.
If you are looking for a simple solution that delivers a premium guest experience, integrates with the rest of your services and scales with your needs, do not look any further – Fusion Platform is the solution!
Turnkey TV Solutions for Hotels and Conference Facilities
Provide your guests with entertainment and information using our hotel TV solutions.
We offer turnkey solutions for hotel TV that cover the entire process – from planning to installation and support. We use the latest in hotel TV technology and information solutions, and our offering includes everything from linear TV channels and TV systems to streamed TV channels for wireless devices
Systems for Smart Hotel Operation
Streamline and simplify the operation of your hotel business with our hotel systems.
Our business concept is based on increasing our clients' profitability. That's why we invest heavily in developing smart systems that can be integrated both with one another and with other systems on the market. The functionality of systems increases when they work together, making operation even more efficient. The result is increased profitability for our clients.
Hotel Interiors with Smart Solutions for Your Hotel
Create a pleasant and comfortable environment for your guests with interior products from our carefully-selected range.
We supply a broad range of interior products to hotels and spa and conference facilities. Our range includes everything from hair-dryers and laundry bags to minibars, hotel locks, ironing centres, safes, beds and kettles. Our products have been specially selected to create a comfortable environment and to ensure your guests have as pleasant stay at your hotel as possible.