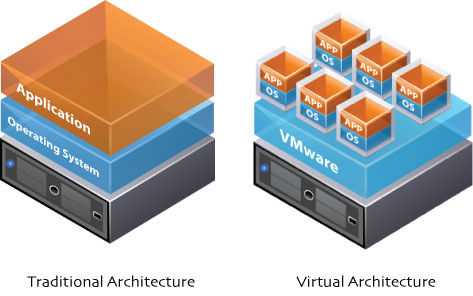 As IT infrastructures grow, administrative control over cost, policies and processes gets harder. Virtualisation is the solution, and iONLINE is the virtualisation expert.
Established infrastructures frequently suffer from common growing pains, which leads to inefficient IT estates with unusable spare capacity, expensive administration, provisioning difficulties, and policy enforcement issues. Virtualisation solves all of these problems – and there is no virtualisation expert with the experience and expertise of iONLINE.
Our virtualisation solutions provide:
Reduced IT infrastructure costs – a virtualised infrastructure requires fewer physical servers than a non-virtualised infrastructure; leading to dramatically lower running costs in power and cooling, and less floorspace required
Improved performance – virtualisation allocates the required computing capacity whenever it is needed; leading to generally faster response times
Ease of management – virtualisation can centralise many of the administrative functions into a single console; making administrative management of the entire IT infrastructure far more simple
Our virtualisation expertise includes:
Desktop virtualisation – simple desktop standardisation, easy desktop provisioning for new users, low cost in deploying new applications, secure remote access to the enterprise environment, reduced downtime during server or client hardware failures
Server virtualisation – high availability, business continuity, more efficient use of capacity, greater efficiency and increased security
Storage virtualisation – non-disruptive data migration, improved use of storage devices, easier capacity planning and data lifecycle management with fewer points of management
Application virtualisation – standardised and accelerated deployment, improved security by isolating the application, simplified systems migration, 'incompatible' applications can be run side by side simultaneously
YES, I'M INTERESTED TO FIND OUT MORE!